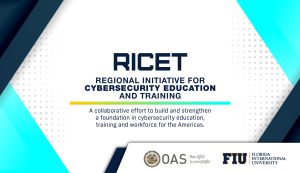 RICET, or the Regional Initiative for Cybersecurity Education and Training, is a collaborative effort to build and strengthen a foundation in cybersecurity education, training, and workforce for the Americas. This event provides an opportunity for community members and thought leaders from education, government, industry, and non-profits to explore ways of developing a curriculum for the current and future cybersecurity workforce. This event is hosted by Florida International University and the Organization of American States in cooperation with the National Initiative for Cybersecurity Education.
The 2022 RICET Conference will take place virtually on Wednesday, November 16th. Available in English, Spanish & Portuguese.
#RICET2022 will be free and open to the public.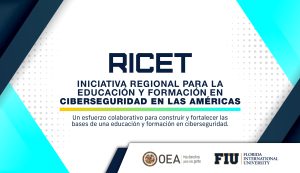 RICET, la Iniciativa Regional para la Educación y Capacitación en Ciberseguridad, es un esfuerzo colaborativo para construir y fortalecer las bases en la educación, la capacitación y la fuerza laboral en ciberseguridad para las Américas. Este evento brinda una oportunidad para que los miembros de la comunidad y los líderes de opinión de la educación, el gobierno, la industria y las organizaciones sin fines de lucro exploren formas de desarrollar un plan de estudios para la fuerza laboral de ciberseguridad actual y futura. Este evento es organizado por Florida International University y la Organización de Estados Americanos en cooperación con la Iniciativa Nacional para la Educación en Seguridad Cibernética.
La Conferencia inaugural de RICET se llevará a cabo virtualmente el miércoles 16 de noviembre. Disponible en inglés, español y portugués.
#RICET2022 está abierta al público de forma gratuita.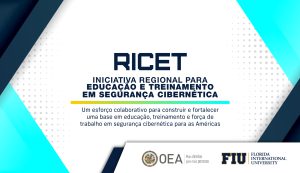 RICET, ou Iniciativa Regional para Educação e Treinamento em Segurança Cibernética, é um esforço colaborativo para construir e fortalecer uma base em educação, treinamento e força de trabalho em segurança cibernética para as Américas. Este evento oferece uma oportunidade para os membros da comunidade e líderes de pensamento da educação, governo, indústria e organizações sem fins lucrativos explorarem maneiras de desenvolver um currículo para a força de trabalho de segurança cibernética atual e futura. Este evento é organizado pela Florida International University e pela Organização dos Estados Americanos em cooperação com a Iniciativa Nacional para Educação em Segurança Cibernética.
A Conferência RICET inaugural acontecerá virtualmente na quarta-feira, 16 de novembro. Disponível em inglês, espanhol e português. 
#RICET2022 é gratuito e aberto ao público.